Property Information for Vacation Rental Home
3 or 4 Bedrooms, Sleeps 7 or 11
1) King size bed in master bedroom, (1) Queen size Bed in middle bedroom. (1) Queen and (1) single in third bedroom.  Optional fourth bedroom in basement has (2) Twins and (1) Full size bed.
2 or 3 Bathrooms
(1) in master bedroom (1) between bedrooms and (1) in optional basement room.
Other Amenities
Free range eggs, seasonal fruits and veggies, 3 fishing ponds, 4 stall barn, farm animals, 13 acres, and resident grounds keeper, guide, handyman, storyteller and Polly and Clyde.
Emerald Gate Farm / Vacation Home Rentals Waynesville, NC
PRIME RATES BEGIN JUNE 15th
Subsistence Farming at Emerald Gate Farm
Note:  The phone number here 828 926 3276 is a land line only and CANNOT RECEIVE TEXT MESSAGES so please call.
Still have 1 prime summer week open.  August 10 thru 17.  Plus 5 nights this month June 19 thru 22.  Season is under weigh and things are all good.  Catfish and blue gills have been caught already.  Berries, onions, garlic and taters are waiting to be harvested.  Eggs galore.   And lots of new chiks already.  
 Saturday to Saturday weekly rentals are the best deal.  I am keeping these rates the same as last year.  For 7 or less folks the all inclusive weekly rate of $1200 for the main floor 3 bedrooms 2 bathrooms.  For up to 11 people the weekly rate is $1400 which includes the Kids Quarters basement room with another kitchen, 3 more beds and a third bathroom. These weekly quotes include all rent, tax and cleaning fee…   No other charges.
Early reservation rates can be negotiated.   Please call 828 926 3276 to create a reservation for any special needs you might have.
Meanwhile plenty of off season visits still available starting August 18.  The best deals for any number of nights at any time are in September.  (October – Leaf Season – is prime time)  but the rest of the winter except for Holidays is also off season.  So please call or email me to negotiate a special deal to fit your wishes.
Go here to see what this farm is all about:             
 https://goo.gl/photos/kaeua6xmx31MteDa6  
This is a working subsistence mountain side farm. A great place to stay in the mountains and a destination as well.  Lots to do right here.  I stay in a small cabin by the barn close to the animals I care for.  And I do all other daily farm related chores.   If you want, you can share the farm activities with me.  Help harvest fresh eggs and care for the animals.  Lots of other activities here like fishing, outdoor cooking, foraging, hiking, shooting and more.
Rates vary according to how many in your party and the time of year and are very negotiable.  Don't hesitate to inquire.   Last minute bookings are really appreciated.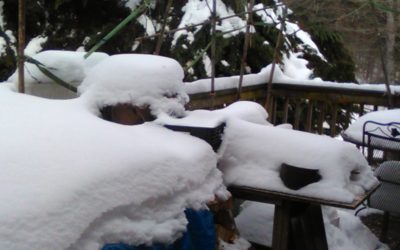 Just now regrouping after a snow event that covered everything in 2 feet of heavy wet snow. So many broken trees that there will be fire wood for the s'more pit for a long time. Lost power for 48 hours. Generator kept important things going. The repair crews did a...
read more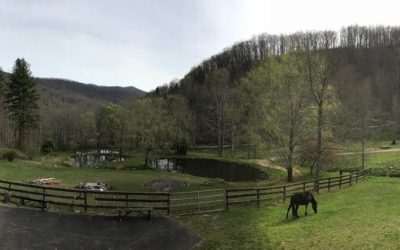 Check the lower rates in effect now for the off season. Home Schoolers bring your kids. Enjoy the farm with bargain off season rates.Also now is the time to book the coming summer season at last years rates. Prime rates begin June 15th 2019....
read more
Emerald Gate Farm Gallery
We are located on 13 acres of beautiful rolling mountain property with so much to do you'll spend most of your time right here. It's very accommodating having the main quarters all on one floor. Drive into the two-car garage and go right into the kitchen. There are ponds, gardens, creeks, springs and mountain hiking trails to explore. The 'Farm Stay' experience has a horse, yard birds, fish and egg laying chickens. You're welcome to enjoy the eggs and sample whatever is in season from the fruit trees, grape vines and gardens.
Please take a moment to view our Gallery by clicking the below image.
John Dobson
jcdobson@gmail.com
828-926-3276
Please View The Availability and Contact us for details.
Call 828-926-3276 to Book Your Dates!
There are no services available for the period you selected.
You must select at least two days